v1.2.1 Android & iPad
App Enhancements
Routing/Workflow
Inspectors are now able to route in-progress and completed inspections to other inspectors. Whether the inspector needs someone else to complete the inspection, acknowledge completion, sign-off or approve, this feature allows a true inspection workflow across an inspection team.
Inspectors can also write a note when routing an inspection and each inspector can view all of the notes along the way. Note that inspectors must route inspections BEFORE they are submitted. Once submitted, an inspection can no longer be routed or edited by an inspector.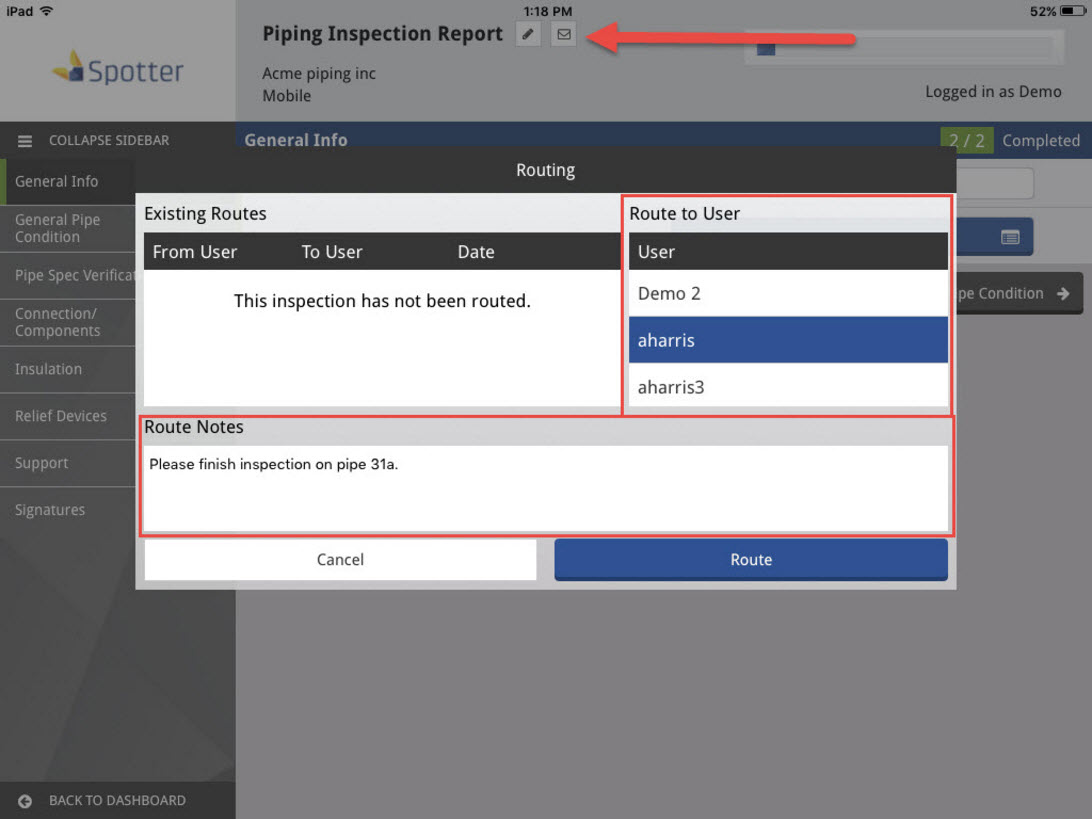 Administrators may turn this feature on or off at the Template level.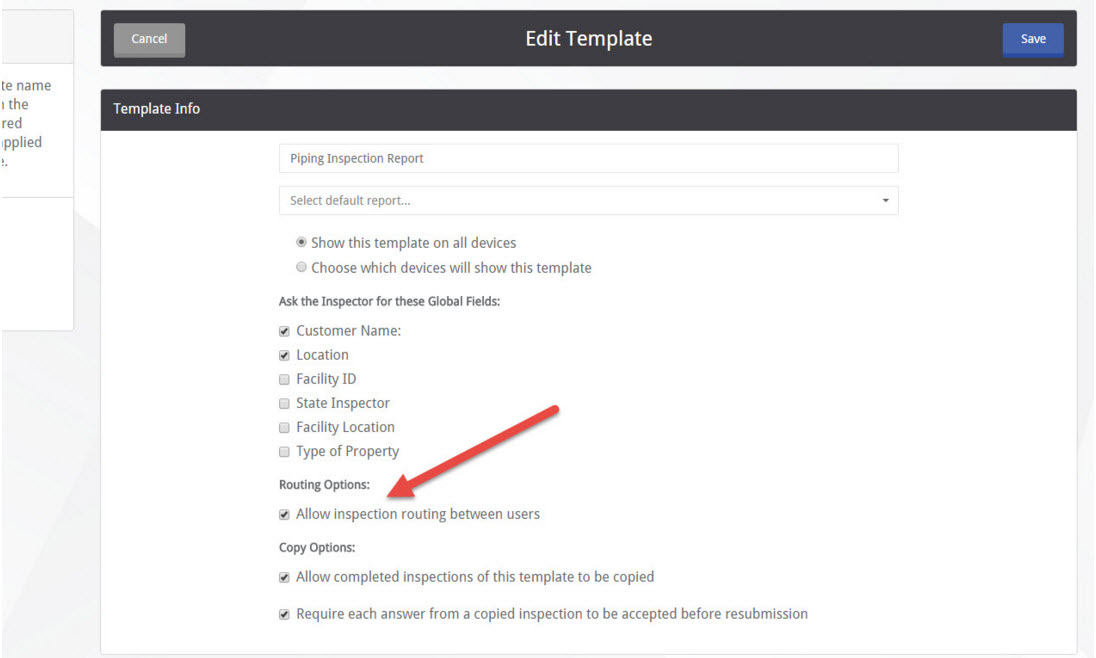 Administrators can also view a history of routed inspections in the Review page.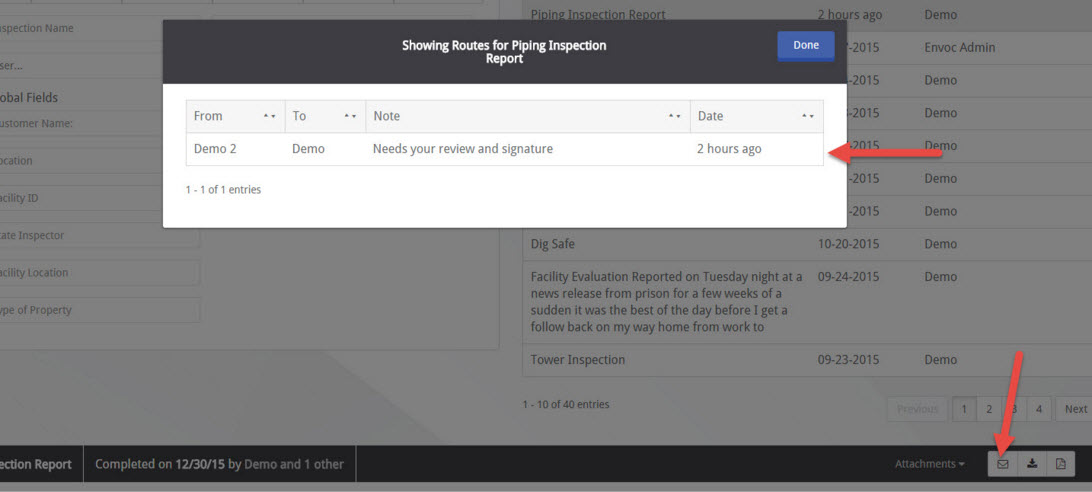 Admin Enhancements
Alert Notifications
An email or text notification may now be sent when a High Flag is triggered in an inspection.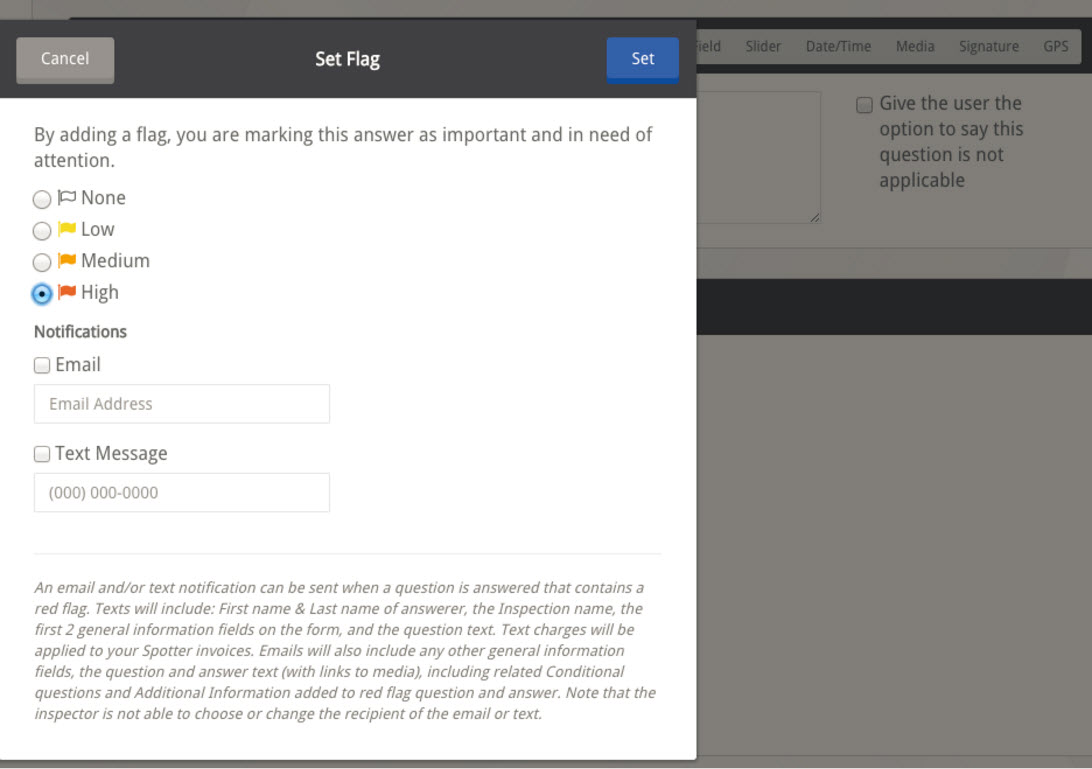 In managing templates, when a high flag is set on an answer, the Administrator is given the option to input an email address and/or phone number to receive a text message. When the inspection is submitted, the email or text notification will be sent. The notification will be automatic, the inspector is not able to choose or change the recipient of the email or text.
Texts include the name of the inspector, the inspection name, the first 2 general information fields and the question text. Emails also include date submitted, all general information fields, answer text, a link to any photos and videos, any related conditional question and answer and related Additional Information.
Text charges do apply: $.01 per text will be added to your monthly fee when applicable.
Inspection Editing
An Administrator may now edit the answers in a submitted inspection within the Spotter Admin Review Page. This allows for shorthand and misspellings to be corrected and is especially useful when inspection reports will be generated for customer or management use. These changes are kept in an audit log within the Review page.

The answers for any question type can be edited. When edited, the answer field will convert to text and allows the Administrator to edit any way you wish. When an answer is changed, a clickable indicator will appear next to that question/answer to view the Audit Log. The Audit log displays who, when and "from" and "to" values.
Note that if/when an inspector uploads the inspection back to the tablet, they will see the old answers, not the edited answers, however, the PDF report on the tablet will have the new/edited answers.
Attachments
Spotter now allows an Administrator to attach PDF documents to a completed inspection on the Review Page. This allows your organization to organize and manage follow-up items related to that inspection and refer to them later as needed. This might include repair orders, emails, etc.
You will want to name your PDFs appropriately before you attach them, you will not be able to change the document name within Spotter, but you can add a label to each document. You will see a listing of attached documents with each inspection and are able to click to view.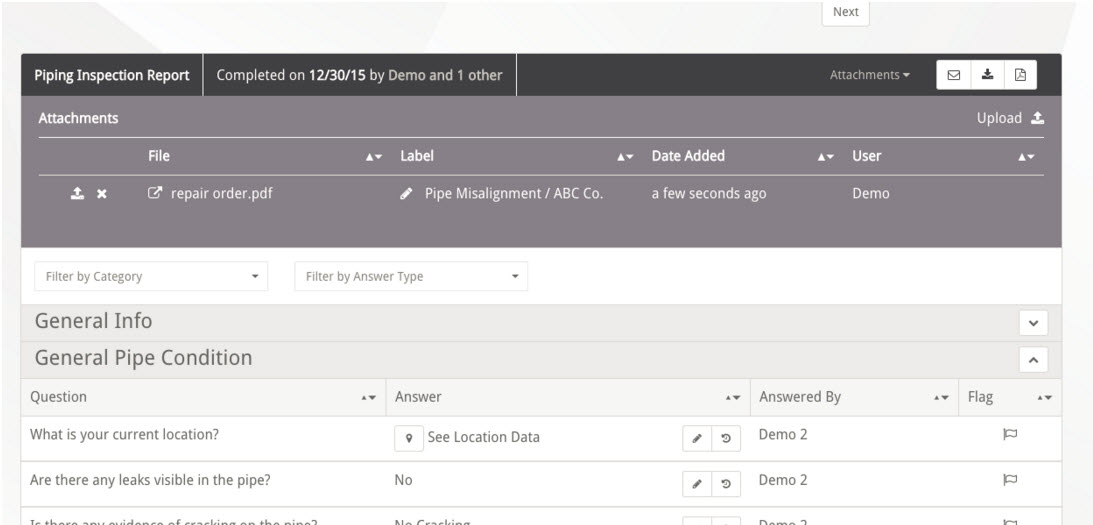 Reporting Enhancements
Photos Added to Reports
Larger photos from the inspection are now embedded in reports.